Premises Liability Attorneys / Practice / Suing the Military for Cancerous Water
Therefore, people have tried to get legal help and file claims against the government over contaminated water at Camp Lejeune, Camp Pendleton, and other bases.
Camp Lejeune Water Contamination
Even though the water at Camp Lejeune has caused numerous health issues such as anemia, leukemia (and other types of cancer), congenital disabilities, etc., the North Carolina law blocked people from filing lawsuits against the government, even though the drinking water was tainted.
However, now the Senate is passing a new federal law that will allow people to seek justice if they've suffered harm due to the Camp Lejeune water contamination. So if you ingested drinking water at Camp Lejeune and are now sick, you have rights, active duty service member or not!
Drinking and bathing in contaminated drinking water with toxic chemicals can harm active duty people and their family members and provoke consequences that last for generations to come.
Consequently, holding the government accountable for the bathing, cleaning, and drinking water supply at Camp Lejeune is essential since the victims deserve compensation for what they have gone through.
Chemicals that Experts Found
The Camp Lejeune water contamination occurred mainly due to two toxic chemicals: perchloroethylene (PCE) and trichloroethylene (TCE). Both of these were in the contaminated water in two different treatment plants.
When imagining the Camp Lejeune water contamination issue, you must keep in mind that it was something very serious. Unlike other contaminated water problems, in this case, the contamination levels were very high, which was what caused so many health problems in the victims.
Safe levels of TCE, for example, include five parts per billion (ppb). In this case, however, the water at Camp Lejeune reached TCE levels of 1,400 ppb.
Something similar happened with PCE – safety standards state that the levels of this chemical must not be over five parts per billion, but at Camp Lejeune, they were 43 times higher than that.
These toxic chemicals that caused the Camp Lejeune water contamination continued to pollute the waters until the wells were shut down in 1985.
However, shutting down the water at Camp Lejeune did not change how millions of people were still suffering the consequences of drinking and bathing in it before.
Studies Link Water to Cancer
Camp Lejeune water contamination has been one of the most notable incidences in which studies have directly linked the contaminated water to people getting cancer.
The two toxic chemicals that were in the water at Camp Lejeune are proven to cause numerous health problems, and they are linked to different types of cancer, for example, leukemia, multiple myeloma, kidney, liver, and bladder cancer.
Experts Have Done Research
Since the Camp Lejeune water contamination issue has been so problematic, numerous experts have tried to determine its consequences on the human body. After careful consideration, all studies came to the same conclusion: water at Camp Lejeune is responsible for higher risk of cancer-related mortality and other chronic illnesses.
Contaminated water at Camp Lejeune has caused a lot of pain and suffering, and the most common cancers resulting from it have been breast, bladder, and renal cancer.
Camp Lejeune's Water Can Cause Other Health Problems
People have also developed neurological disorders, anemia, and other health problems due to the Camp Lejeune water contamination. Currently, it's no surprise that the victims want to get disability benefits and want to seek compensation for the pain they've gone through.
Common Health Conditions
The toxic chemicals at Camp Lejeune have caused numerous health issues in the victims who lived on the site, for instance, the following problems:
Lou Gehrig's Disease

Brain damage

Cardiac defects

Infertility

Miscarriage

Neurobehavioral effects

Plastic anemia

Fatty liver disease
Studies Link Water to Birth Defects
To this day, Camp Lejeune remains one of the most crucial military bases defending the United States. Unfortunately, the contaminated water there has had negative effects on its habitants and their family members.
The government has failed to provide clean water to the people at Camp Lejeune, which is why the water contamination issue continues to be a problem. Experts have found volatile organic compounds, and boh scientific and medical evidence proves that this Marine Corps base is still a health hazard.
Although the Camp Lejeune contaminated water was shut down years ago, it still affects people's lives, particularly in the cases of the women who lived and worked there because they constantly drank the water. Consequently, a number of water contamination lawsuits will mention the birth defects of the children of those women, which are a direct result of the contamination problem.
Negligence
Although it is clear that the water at Camp Lejeune caused permanent and avoidable injuries to millions of people, it is hard to imagine why no one did anything to stop it for around 20 years. Water contamination kept happening and affecting people and their family members, so you might wonder why this continued for so long.
In recent years, researchers have not only examined Camp Lejeune's contaminated water but also the people responsible for it. Nowadays, experts have uncovered a long trail of evidence that points to one thing: the US Marine Corps knew about the water contamination but kept it hidden for years.
Firstly, the Marine Corps discovered issues with the water at Camp Lejeune in 1980 when the new EPA regulations started to be mandatory. In 1981, the U.S. Army Environmental Hygiene Agency reported to the Marines that there was water contamination at Camp Lejeune – but no one did anything!
Experts gave further reports to the Marines in 1982, but still, they didn't do anything. The water at Camp Lejeune continued to harm the people there, and in 1983, things got even worse – the Marine Corps submitted a false report saying there were no contamination issues at the base.
However, the situation did not change, so people kept drinking and bathing in contaminated water until the Marine Corps had to shut down all the wells in 1985. Even so, too many family members, workers, and people were sick by then, numerous pregnant women had drunk the water, and the effects were inevitable.
Camp Lejeune Justice Act
Camp Lejeune water contamination has been an issue that has affected thousands of lives, including the development of many children. It is no surprise that so many people want to file claims and get disability benefits for the problems they've gone through, mainly if it affected them or their family members.
However, North Carolina Law did not initially allow people to file a Camp Lejeune lawsuit. Nowadays, this is changing. The 2022 Camp Lejeune Justice Act will give victims the chance to seek justice for what happened.
A Camp Lejeune lawyer is what you might need if you suffered from the contaminated water at Camp Lejeune. Michael Ehline is an experienced attorney who is ready to assess your case and guide you through the process, so call (833) LETS-SUE to get started.
Lawsuits Dismissed
As was mentioned before, anyone who tried to sue the government for the Camp Lejeune water contamination did not succeed in the past. Authorities dismissed the lawsuits, regardless of whether or not the victim had evidence to support their case.
Nonetheless, this is changing. Now, experts know that water at Camp Lejeune caused pain, suffering, and even cancer and death. Therefore, the Senate is passing a new law that will allow people to fight for their rights.
If you have gone through difficult times due to the contaminated water at Camp Lejeune, you might have the opportunity to file a claim and get the justice you deserve. Michal Ehline can help you, so don't hesitate to set up an appointment and start your process as soon as possible.
New Law May Allow Water Contamination Lawsuits
If the Senate passes the Camp Lejeune Justice Act, thousands of victims will have the opportunity to file a civil lawsuit and get the compensation they deserve for what they've suffered as a result of ingesting contaminated water.
Overall, the purpose of this bill is to give people the opportunity to get a fair settlement for what they've gone through. It is not your or anyone's fault that the camp had contaminated water, yet you and thousands of more people might have suffered the consequences of it. Thus, you have the right to seek compensation.
As the bill currently dictates, if the Senate passes it, victims would have no more than two years to file their suits once the Camp Lejeune Justice Act takes place. Therefore, the purpose of filing water contamination lawsuits is for you to have the opportunity to get the settlement you deserve as compensation for enduring the Camp Lejeune water contamination.
Claimants who want to get compensation under the Camp Lejeune justice act have to prove two things: one, that they consumed the water at Camp Lejeune between 1953 and 1987, and that they developed cancer or any other health condition that experts have linked to the water contamination.
If you are able to successfully prove those two things, you are entitled to get full compensation, for example, money for all past medical expenses, pain, and suffering, etc.
Even though trying to file a lawsuit on your own might sound like a viable option, you should always hire an attorney from an experienced law firm if you want the best results possible.
Compensation Claims Might Be Tricky
Assuming that you can prove that you consumed the Camp Lejeune water and are entitled to compensation for it, you need to give enough evidence to the Federal government and also know how much you should get as a potential settlement.
Therefore, getting help from an experienced attorney is the best way to handle your Camp Lejeune water lawsuit. With a knowledgeable lawyer such as Michael Ehline, you can rest assured that your case is in the hands of an expert.
Getting disability benefits or winning a Camp Lejeune lawsuit is not as straightforward as it seems, mainly because you're going against the government. Thus, if you want to guarantee the best chances at getting the compensation you deserve, hire a top law firm – Ehline Law is here for you, so call (833) LETS-SUE and get started with Michael Ehline.
Compensation Claims Originally Rejected
Marines and their families tried to file the first Camp Lejeune lawsuit examples in 2009. They mentioned that they developed health conditions and cancer from drinking the contaminated water at Camp Lejeune. Here is a summary of what happened in some of these cases:
Jones v. the United States
Laura J. Jones filed the first Camp Lejeune lawsuit ever, and she did it in July 2007. She was a Marine Corps Corporal's wife, and in her claim, she described in detail how she consumed various carcinogenic chemicals.
However, the government immediately filed a motion to dismiss Jones' claim and argued that the claims were time-barred under the Federal Tort Claims Act statute of limitations.
Shriberg v. the United States
The former Marine filed a Camp Lejeune lawsuit in 2011, and he served as a clerk in Camp Lejeune from 1957 to 1959.
Unfortunately, he developed a rare kind of breast cancer that spread to his lungs later. Since Joel had no history of breast cancer or any other type of risk factor, numerous medical experts concluded that he developed this illness due to consuming the Camp Lejeune water.
Lawsuit Settlement Amounts
It is still difficult to determine how much a person would get if they won a Camp Lejeune lawsuit because the Senate still hasn't passed the Camp Lejeune Justice Act. However, experienced attorneys such as Michael Ehline can calculate an estimate based on similar cases, which might give you an idea of how much you could get.
Camp Lejeune's water supply has affected thousands of lives, and unfortunately, the consumption of those toxic substances has provoked disease and even death. However, with the possibility of filing a lawsuit, people can now get the chance to obtain the compensation they deserve for the pain they have gone through.
Nothing could erase what you've been through if you drank or bathed in contaminated water for a long time. Still, if you work with a law firm, you might be able to get monetary compensation for the money you spent trying to cover the medical expenses of the illnesses you developed.
Legislative Updates
The Senate is constantly revising the bill and getting together to determine all the details of this legal process. Therefore, understanding where it is right now is essential to know how long it might take before victims can file a Camp Lejeune Lawsuit.
June 20, 2022
After the Senate passed a slightly revised version of the Honoring Our Pact Act, they must wait for the House to approve it. Speaker Nancy Pelosi says she endorses the Senate's version of this bill.
June 21, 2022
It is clear that the Camp Lejeune bill will happen and that victims might be able to file lawsuits sooner than they think. The House Committee on Rules still needs to vote, but the bill has enough votes to pass to President Biden.
June 22, 2022
Unfortunately, the voting did not happen, and it appears as though the House Rules Committee got sidetracked by other agenda tasks. This does not mean that the North Carolina Statute is going to keep affecting the former Camp Lejeune residents. On the contrary, the bill is almost a reality, so many attorneys are proceeding as though it already is. Make sure you contact Michael Ehline to start the process.
June 23, 2022
Technical difficulties arise as some lawmakers object and say that the Senate added a 'tax provision' that they must now revise. In other words, the Camp Lejeune lawsuit bill is still passing, but the Senate must now revise some specific aspects of it before it does.
June 24, 2022
The slight technical delay continues to be a problem for the bill to pass, but there is no doubt that it will happen anyway.
June 28, 2022
Congress is in recess, meaning that people who want to file a Camp Lejeune lawsuit must wait for at least two more weeks before getting any more news.
Why You Need an Experienced Attorney
Filing a lawsuit is not straightforward, and things can get even more complicated in this case because victims are going against the government.
Camp Lejeune victims must prove that their lives suffered because they ingested the toxic substances in the contaminated water, so filing this type of lawsuit can be even trickier unless you're working with an experienced attorney from a top-notch law firm.
Other attorneys might not be able to give you the best suggestions, and if you want to prove that the Camp Lejeune water supply negatively impacted your life, you need to make sure that you get help from an experienced expert.
Even when the Camp Lejeune families act passes, it doesn't mean everyone filing a lawsuit can get disability benefits. Although the contaminated Camp Lejeune water changed thousands of lives, real Camp Lejeune victims need to guarantee they get the best outcomes for their process. This is why hiring a lawyer such as Michael Ehline is essential.
Michael Ehline Is the One for You
There might be numerous Camp Lejeune lawyers, but not all of them are personal injury experts like Michael Ehline is.
If you're looking for someone to help you with your Camp Lejeune water contamination lawsuits, Michael Ehline might be the one you're looking for. He is an expert at personal injury and understands Camp Lejeune law, so he can provide you with the legal counsel you need to get V.A. benefits and disability benefits.
Camp Lejeune Settlement Payouts
There is still no exact information on how the payouts work nor how much money you can get if you win a Camp Lejeune lawsuit. However, what is true is that an experienced and knowledgeable expert like Michael Ehline is ready to passionately defend your case, evaluate it, and provide you with the best results you can get.
If you were drinking water from Camp Lejeune for a long time, you likely developed some health issues. Thus, you might be entitled to get your Camp Lejeune settlement under the new law, disability compensation, disability benefits, V.A. benefits, or more, depending on how much you've suffered.
However, to get what you deserve, you need expert Camp Lejeune lawyers to defend your case and guarantee that the government awards you the compensation you're entitled to get.
Whether you developed lung cancer, kidney cancer, or any other type of health issue researchers linked to amp Lejeune's water supply contamination, you have the right to get an attorney who can help you guarantee a fair outcome for your case.
Why Starting the Process Today Is the Best Idea
Many people wonder why you should start your Camp Lejeune lawsuit today if the Senate still hasn't passed the bill. You should keep in mind that even though the law is not active yet, it's basically a reality, so it's only a matter of time before the Senate passes it.
The importance of getting expert help now lies in the fact that you only have two years to file a claim if you want to get compensation. Therefore, the sooner you start the process, the better.
Experienced attorneys like Michael Ehline are getting ready to fight for their clients as soon as the bill passes. Thus, you shouldn't wait any longer – you should work with an expert lawyer as soon as you can, allow them to evaluate your case, and start the process.
No More Rejected Claims
Originally, everyone who tried to file a Camp Lejeune claim against the government lost their case. Unfortunately, the law did not protect victims, which is why so many years passed before people were able to fight for their rights again.
However, with this new bill, this doesn't have to happen anymore. If you can prove that you consumed Camp Lejeune water while it had toxic chemicals and if you can show evidence that this hurt your life, you deserve compensation for what you've gone through.
Fortunately, expert lawyers are here to help you through the process. Attorneys such as Michael Ehline understand that it's not only about the technical aspects of the law but also about empathy, especially if you've lost loved ones as a result of this issue.
Working with Ehline Law lets you have a one-of-a-kind, smooth legal experience. You can navigate the waters of your rights while Michael Ehline guides you and gives you the best suggestions he can think of, depending on what he knows and what he has experienced.
Although there are other lawyers, not everyone guarantees that they can passionately defend your case, which is what Michael Ehline promises you.
Camp Lejeune cases are very serious, especially if you have developed cancer, other chronic diseases, or if you lost a loved one due to having ingested toxic water. Thus, it's the perfect time to get the compensation you deserve.
You Can Get a Free Consultation
One of the best aspects of working with Michael Ehline is that you're able to get a free consultation if you want. You can talk to him, describe your case, and then decide if he's the expert that you want to hire for your case.
Unlike numerous other lawyers, Michael Ehline cares a lot about what you feel and what you've gone through. As a former Marine, he understands the importance of serving the people of the United States, so he believes that fighting for your rights is one of the noblest tasks he can do.
What happened to the people at Camp Lejeune was devastating, and it impacted thousands of lives. The worst part of it is that it could've been avoided if it wasn't for the negligence of some. Therefore, you're entitled to get compensation for what you've gone through, and helping you fight for it is Michael Ehline's job.
How a Lawyer Can Help You
If you've never hired a lawyer before and if you'd never even thought about filing a lawsuit, you might wonder how this process occurs. Firstly, you should know how an attorney can guide you through it.
The lawyer's job is to know the law, analyze your case, and decide the best arguments to defend it passionately. Considering the circumstances surrounding Camp Lejeune claims, your attorney would go up against the government, so it's immensely crucial that they're prepared and experienced.
At the same time, another part of the attorney's job is to help you get the settlement you deserve. Therefore, if the other party (or, in this case, the government) offers you something below what you should get, your legal expert might advise you not to take it.
Hiring an attorney might sound like a completely new experience for some, and some victims can even feel intimidated. This could lead them to think that starting the process on their own is the best idea. However, it would help if you never did that.
Legal counsel is vital when filing a lawsuit, especially in this case, because it's against the government. Therefore, you should ensure you get the help you need, which is why getting an experienced, passionate expert is essential.
Thousands of lawyers are available, but getting the best one might take some time. On the one hand, you have to check their credentials and guarantee that you're hiring the right person.
However, on the other hand, you must ensure that their behavior encompasses the values that you're looking for. In other words, you have to guarantee that the way they act aligns with the type of expert you want. Otherwise, the attorney-client relationship might not work.
The Future of the Victims
No one knows what the future might bring, but the Senate passing the Camp Lejeune bill sounds like the start of something better for the victims of this issue.
The problem went on for more than 20 years, but luckily, many victims can have the opportunity to get the settlement they deserve now. In numerous cases, this might mean their retirement period is much more peaceful and enjoyable.
Even though there is no specific way to know whether or not all the Camp Lejeune victims will receive the settlement they deserve, experienced attorneys must fight for them and guarantee that they get fair compensation. For now, the only vets who can receive compensation must establish a "presumptive service connection."
Passed in 2008, this rule states there is a presumption that veterans stationed at Camp Lejeune between 1953 and 1987 got sick from certain toxic chemicals as follows:
Parkinson's disease

Non-Hodgkin's lymphoma

MDS

Adult leukemia

Multiple myeloma; and cancers of the bladder, liver, and kidneys.
Veterans suffering from other health issues connected to this chemical at earlier or later dates of service at Camp Lejeune are waiting on the U.S. Senate.
At the same time, the fact that the government is taking the necessary steps to give victims the treatment they've deserved for years is a positive aspect of a successful Lejeune toxic water lawsuit. Thus, currently, former habitants of Camp Lejeune might feel better because there's the hope of getting justice, something they didn't have before.
Is Senate Stalling Your Veterans Claims?
There is still a long way to go because the Senate hasn't passed the bill, but things are looking much better for Camp Lejeune victims, and this is a step in the right direction. Camp Lejeune victims have gone through dark years because they have had to endure the consequences of something that wasn't their fault and that they couldn't change.
However, now, they might have the opportunity to file a claim and let their voices be heard in pursuing health benefits compensation over toxic drinking water. Claims must be filed in the U.S. District Court for the Eastern District of North Carolina (Federal Court.).
All claimants must produce evidence:
"sufficient to conclude that a causal relationship exists" between their disease and the tainted drinking water, or

"sufficient to conclude that a causal relationship is at least as likely as not" from Camp Lejeune water contamination and its harm caused by several water treatment facilities being contaminated with cancer-causing agents like TCE, vinyl chloride, and Benzene.
That is the burden of proof we must meet to win that must be backed up by medical records or Camp Lejeune veterans and other military personnel, including civilian employees. Are you ready to learn more about a potential Camp Lejeune water contamination lawsuit?
Schedule a Free Consultation With a Drinking Water Contamination Lawsuits Attorney Today
So if you're one of these people, you should contact Michael Ehline to start the legal process as soon as possible. We can counsel, aid, and assist people living with cancer, even if we can't handle their lawsuits in Carolina. We help with California-based cases, including El Toro, Camp Pendelton, and Miramar Marine Corps Air Station water contamination.
Feel free to use our online contact us form or call us today at (213) 596-9642. We can help active and inactive military personnel and dependants find the best Camp Lejeune attorneys to sue on your behalf for maximum financial compensation after drinking contaminated water.
---
Michael Ehline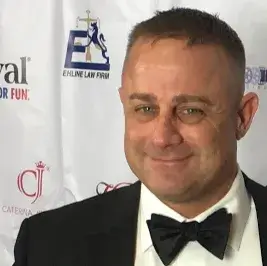 Michael is a managing partner at the nationwide Ehline Law Firm, Personal Injury Attorneys, APLC. He's an inactive Marine and became a lawyer in the California State Bar Law Office Study Program, later receiving his J.D. from UWLA School of Law. Michael has won some of the world's largest motorcycle accident settlements.
---
Recent Personal Injury News
Check out our most recent Agent Orange and service related cancer news blog posts about the famous, infamous and everyday people wounded by at fault parties around the world.