If we don't win, you don't pay.
Speak to the Attorney.
Born to serve.
633 W 5th Street #2890
Los Angeles, CA 90071
(213) 596-9642.
2323 S. Voss Rd, Suite 244
Houston, TX 77057
(832) 592-1260.
Date Modified: July 2, 2023
Are you seeking a truck accident attorney in Los Angeles? This ultimate guide to compensation for Los Angeles StreetSweeper collisions is at your fingertips.
Get Quality Legal Representation for a StreetSweeper Crash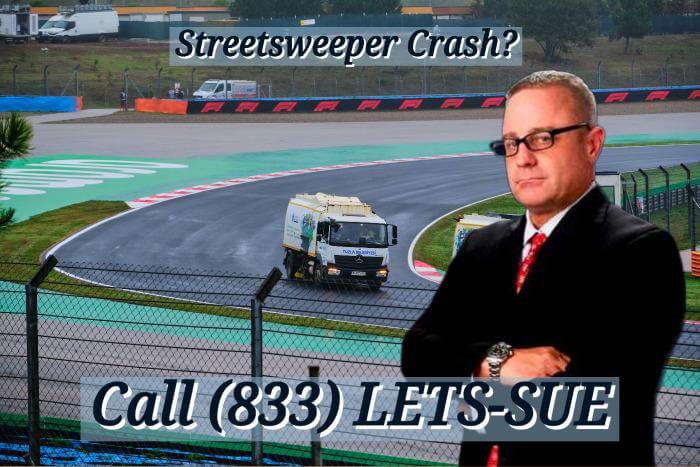 Truck accidents and car accidents are very common in Los Angeles, CA. But most truck accident victims don't think about street-sweepers and the damage they can do to a pedestrian like a small child or motorist. Carrying out the role of "sanitation workers," street sweepers are large commercial trucks that tirelessly clean up the roads and drainage in the city.
Due to their massive size, it is fair to say that driving around with one of these on Los Angeles roads can be scary for occupants inside a passenger vehicle. And it can turn terrifying if you're involved in street sweeper truck accidents, and the trucking company blows off your truck accident claims. According to the National Safety Council, 9% of all vehicles involved in fatal accidents are large trucks. In 2020, more than 4,000 people died in truck accidents, where only 15% of fatalities were truck drivers, while 68%, or the majority of the people who died, were other passenger car occupants.
Ehline Law and our Los Angeles street sweeper truck accident attorneys have successfully represented injured victims in obtaining maximum compensation for a truck crash or other serious accident injuries like a spinal cord injury.
If you suffered injuries from a street sweeper truck accident that was not your fault, contact us now to learn more about your rights as an injured victim. We can help you recover medical expenses, lost wages, and pain and suffering after forming an attorney-client relationship with our award-winning law firm in Los Angeles County, CA.
Types of Street Sweeper Trucks
Weighing up to 14,000 pounds, the street sweeper is a large truck that operates within the boundaries of a city to maintain and ensure cleanliness. Different types of street sweepers have the same objective of cleaning the city but different functions. Truck accidents involving a street sweeper require legal advice from an experienced truck accident lawyer. This is because the trucking company is often an agent or fully employed by a government agency. The Tort Claims Act may govern the truck accident claim partially or fully.
Here are some of the different types of street sweeper trucks:
Conventional street sweepers: These are the traditional street sweepers that come equipped with rotating brooms. Using the rotation, the broom shoves the debris onto a conveyor belt that collects it in a container at the other end. These street sweepers are often common around construction sites as they can handle heavier objects like rocks, gravel, and more.
Vacuum sweeper: Just from the name, it is easy to tell that these street sweepers function similarly to home vacuums but are much larger. The brooms on these street sweepers push the dirt into the vacuum, which sucks it all up into a large capsule. These street sweepers are commonly found on public roads early in the morning, keeping the roads and gutters clear of debris.
Regenerative air sweepers: Similar to vacuum sweepers, air sweepers are much larger than their counterparts and sweep in more debris, especially smaller particles, due to their strong suction capabilities. They also clean a larger area of land as compared to vacuum sweepers.
Types of Street Sweeper Accidents
According to the Federal Motor Carrier Safety Administration, more than half a million truck accidents occur annually across the United States.
A street sweeper accident can occur in a community, on the street, in a neighborhood, on the road, or even on state routes.
However, certain types of accidents occur more often than others, including the following.
Rear-end Collisions
There are just under 2 million rear-end collisions in the country each year, which can result in serious injuries and, in some cases, wrongful death. Rear-end crashes lead to 1,700 deaths, leaving half a million people injured yearly, with many motor vehicle accidents related to reckless driving.
Street sweepers are large vehicles with a front blind spot spanning about two to three meters. An inattentive driver can easily run over a motorcycle or a small car before it is too late. If you see a street sweeper coming up behind you, change lanes safely or speed up to prevent a rear-end collision.
Hit and Run
Since street sweepers are massive vehicles, a driver can hit a small vehicle, a motorcyclist, or a pedestrian without even noticing. In some situations where drivers notice an accident, they panic and leave the accident site to avoid trouble with the authorities. If caught, it is a crime to leave an accident scene, and violators can either face incarceration, fines, or both. Either way, the truck owner won't just roll over and pay the fair and just compensation you deserve.
Rollovers
Due to its heavy weight, a commercial truck can roll over if the tire bursts, and according to the National Highway Traffic Safety Administration, 30% of all rollovers are deadly. The truck owners are responsible for maintaining their vehicles and conducting pre-inspection checks before operating the street sweeper. No financial compensation can bring back a dead person after an auto accident, which is why safety inspections are vital to avoid truck crashes.
Street Sweeper Accidents in California
Although most road accidents involve passenger vehicles, street sweeper accidents are more common than you think.
Let's look at some of the recent street sweeper accidents in California.
"Ball of Fire" in Riverside County
On May 19, 2022, the California Highway Patrol received a distressed call at around 5 a.m. of a multi-vehicle collision on Interstate 215 in Riverside County.
Emergency services immediately reached the accident site, where the fire was already engulfing the other lanes of the interstate highway. The authorities diverted traffic for three hours before extinguishing the fire and clearing the wreckage.
The fire's remains showed a massive four-vehicle collision involving three passenger cars and one large street sweeper, with one driver dead in the fire.
Inattentive Street Sweeper Driver Kills a Man
On December 27, 2010, a 55-year-old man, Dennis Schenk, ended up hitting a 20,000-pound large street sweeper as he tried to avoid the vehicle with its rear end sticking into Dennis's lane. The truck driver had made an illegal turn, resulting in his vehicle protruding into another lane, causing a collision with Dennis's car.
Without knowing about the collision, Alejandro Pena, the man driving the street sweeper, activated the sweeper to clean the road. However, the sweeper broke the passenger car's window and caused serious traumatic brain injury and lacerations, resulting in the death of Dennis Schenk. The decedent's parents sued Pena and settled the case for $2.75 million.
"Combustible" Street Sweeper Blazing on I-15
On March 16, 2022, at about 5.25 pm, a street sweeper caught fire along the northbound I-15 freeway. The San Bernardino County firefighters made it in time to extinguish the flames while the law enforcement authorities blocked access to the road for about 45 minutes, resulting in traffic delays.
Although the cause of the fire is still under investigation, the street sweeper driver made it out alive without sustaining any injuries from the fire.
On November 23, 2021, a 34-year-old man drove into the back of a street sweeper, and according to the San Diego Police Department, the driver did not see the commercial truck before the crash.
The accident resulted in severe injuries to the 34-year-old man, including a broken sternum, broken ribs, and internal injuries. The police believe that there was no involvement of alcohol in the accident.
Dragged into a Trench
On February 16, 2018, a street sweeper driving southbound on Morena Boulevard swept a hose at a nearby construction site, causing two workers to trip and fall into a deep trench. The nearby workers noticed the incident and confronted the street sweeper driver, who immediately took off, leaving the truck behind.
The two construction workers who fell into the trench suffered from broken ribs and hands. The emergency services rescued the two workers and took them to a nearby hospital for medical attention.
Common Causes of Street Sweeper Accidents
Street sweeper operators start their work early in the morning, cleaning the streets until late afternoon. Because of their schedule, they are often on duty during rush hours, creating many opportunities for drivers to get involved in catastrophic injury accidents.
Street sweepers also do not operate like typical vehicles, which increases the chances of street sweeper drivers losing control of their trucks for many different reasons, including:
Poorly trained drivers: To safely operate the street sweeper truck, the drivers must undergo extensive training about the truck functions and pre-trip inspections.
Drivers must also complete a certain number of training hours before becoming licensed street sweeper drivers. The lack of proper driver training for these commercial vehicles can increase the risk of severe accidents on the road in the Greater Los Angeles area.
Fatigue: A street sweeper driver wakes up early in the morning and starts operating the larger vehicle, cleaning the streets before most people are on the road.
However, the drivers' schedule changes, and as a result, a driver may show up to work tired. Fatigue or sleep deprivation can significantly affect motor skills, putting others in danger.
Harsh weather conditions: It's safe for large trucks to operate on the roads during the fall or summer months as compared to when it's raining or snowing. 16% of fatal commercial truck accidents happen because of bad weather.
During the winter months, the cold temperatures can potentially freeze the water sprayed onto the roads by the street sweeper, making the surface slippery for the vehicle to drive on.
Employers are responsible for ensuring that their drivers are not operating during risky scenarios, especially harsh weather conditions, to prevent accidents. Our injury lawyers protect the rights of truck accident victims on behalf of the client, relentlessly pursuing financial recovery from all defendants on behalf of the surviving family.
Poorly maintained street sweepers: Employers and street sweeper drivers must ensure that their trucks are properly maintained regularly. They should inspect the truck for any signs of wear and tear and tend to it immediately if necessary.
Any defect in parts or components of a street sweeper truck can be an accident waiting to happen. Components like rubber seals, dust separators, and suction inlets are some parts that require special attention during inspections.
Inattentive driver: Street sweepers are large vehicles, and those driving them must look around before proceeding with caution, especially during turning and backing up. These trucks have large blind spots, which makes it possible for the drivers not to see any bicyclists or smaller vehicles.
The sheer size of the truck makes it easy for the driver to rear-end or collide with a car, bicycle, or even a pedestrian if the driver is not paying attention or fully aware of their surroundings. Street sweeper drivers must be extra vigilant on the road, especially around schools and busy zones.
Inattentive driving: In the United States, according to the Department of Motor Vehicles, nine people die daily due to distracted driving.
There is a common misconception that distracted driving only occurs when the driver is using the phone, but that's not true as it can happen when they're doing any activity while behind the wheel, such as eating, changing the radio, or talking to other passengers, and so on.
Defective manufacturing: Products that hit the shelves without proper quality control can result in all sorts of accidents, which is why manufacturers of defective products have to do a recall. A defective street sweeper increases the risk of a street sweeper accident. Are you or your loved ones trying to get justice from a street sweeper manufacturer? We can help; our contingency fee attorneys won't take a fee unless we win.
Common Injuries from Street Sweeper Accidents
Although street sweepers are much slower than passenger vehicles, they are still extremely dangerous to other drivers, motorcyclists, and pedestrians. Injuries sustained in a car accident are much different than injuries from a street sweeper accident.
The suction is often strong enough to trap victims, but crushing injuries are the most common as many truck accident victims get stuck between two forces.
Here are some of the common street sweeper accident injuries victims suffer:
Crushed body parts: In most street sweeper trucking accidents, crush injuries occur when a person gets stuck between an active street sweeper and the street, ground, or pavement. The force exerted on the stuck body can result in crushed limbs.
Amputations: Amputations are the aftermath of crushed limbs that are beyond repair. A doctor may suggest amputation and require the victim to attend rehabilitation or wear a prosthetic limb. This can significantly affect a person's life both mentally and emotionally.
Internal bleeding: A street sweeper accident can cause internal injuries, resulting in internal bleeding. Diagnosing internal injuries early on can help prevent complications, but delaying medical examination or treatment can lead to life-threatening conditions.
How to Prevent Street Sweeper Truck Collision
Because of the massive size and heavy weight of street sweepers, passenger vehicles must exercise extreme caution on the road while driving along one. Drivers who do not take precautions increase the risk of accidents, even if they drive in their lane and follow traffic rules.
Accidents occur randomly, but taking preventive measures can reduce your chances of being involved in a street sweeper accident.
Here are some tips motorists must follow when encountering a street sweeper:
Avoid driving too close to the truck: Vehicles and motorcycles must adhere to the three-second rule to help maintain a safe distance in the event that the street sweeper accidentally brakes. The safe distance allows the other drivers enough time to brake or steer to avoid a collision.
Avoid driving in the blind spot: Street sweepers have multiple blind spots, so staying away from those spots is important. If you see a street sweeper in your side view mirror, you're definitely in the truck's blind spot and should move lanes or speed up after assessing the situation.
Avoid high beam lights: Street sweeper operators clean the road before the sun is out. Driving in the dark is already challenging for a truck due to lowered visibility, but if you're driving with high-beam lights, you're blinding the truck driver and further increasing your risk of collision. When approaching any commercial truck, it is best to dim your lights.
Wait during turns: Since these trucks are large, they need more space to make a turn. It is best to let a commercial truck complete its turn before proceeding to make your turn to avoid getting rear-ended.
Avoid texting: Even a second of distraction in a fast-moving vehicle can result in a deadly accident. According to the National Highway Traffic Safety Administration, over 3,000 people die annually from distracted driving. In California, using your phone while driving is illegal—those caught using their phones while behind the wheel may face fines and even risk street sweeper accidents.
Tips for Street Sweeper Truck Drivers on the Road
Eliminating street sweepers from the road is the easiest way to prevent any street sweeper accidents.
However, street sweepers are essential road equipment that cleans storm drains and prevents flooding during rainy seasons. Removing these industrial-sized trucks from the roads can cause more harm than good.
Rather than removing street sweepers, these truck drivers can take preventive measures while operating on the roads, such as:
Pay attention to the road at all times.
Avoid wearing earphones when operating the vehicle.
Follow traffic rules and always stay within the speed limits.
Wear protective gear when operating the vehicle.
Who Is Accountable for Your Street Sweeper Accident?
Under California law, injured victims can hold negligent parties responsible for their injuries and damages. In a street sweeper accident, either your local government or an outsourced street sweeper truck company is responsible for your injuries. Hiring a qualified street sweeper truck accident attorney can help determine the negligent party and hold them responsible for your losses.
When a city or an independent driver hires a street sweeper driver for their truck, the employer must ensure that the driver has sufficient training to operate the street sweeper safely and reliably. The employer must also maintain the street sweeper vehicles in working condition to prevent potential accidents.
However, the city may be liable for the accident if there are no trucking companies and the city manages the street sweeper.
Filing a Street Sweeper Accident Lawsuit
You should consider pursuing legal action if you suffered injuries in a street sweeper accident.
To win a lawsuit, plaintiffs must successfully prove the four key elements of a personal injury claim, which include:
Duty of care: All drivers owe other drivers, motorcyclists, and pedestrians a duty of care while driving on the road and must drive responsibly to prevent putting others in a dangerous situation. The plaintiff must prove that the defendant (the other driver) owes them a duty of care.
Breach of duty of care: The defendant breached their duty of care by acting negligently or carelessly. This could include running a stop light, overspeeding, texting while driving, driving under the influence, or doing something similar, placing others in danger. The plaintiff must prove how the defendant breached its duty of care.
Causation: The plaintiff must prove that the breach of the duty of care directly resulted in the accident.
Damages: The plaintiff must prove that the accident resulted in injuries and damages to the plaintiff. If the plaintiff does not suffer injuries, they may not recover any other damage besides property damage. However, if the plaintiff suffers injuries, such as neck, brain, or any other injury, they may recover compensation for their loss.
Street Sweeper Accident and Statute of Limitations
In California, an injured victim has two years following the accident date to file a personal injury claim against the negligent party if they wish to recover compensation. Failing to comply with the state's deadlines would result in losing the right to pursue legal action against those responsible for their injuries.
The time limit for personal injury claims is in place to ensure that parties seeking justice and compensation take prompt action when the evidence is fresh. A longer deadline could result in evidence tampering or inaccurate reports and even draw out the legal process. Witnesses may forget the details of the incident, affecting the outcome of claims and legal battles.
However, in some cases, the government may be responsible for your injuries, and if you file a claim against a government agency, you have six months to submit your claim. In certain situations, there may be an extension to this deadline.
Speaking to our experienced street sweeper truck accident lawyers can help determine the liable party and pursue compensation for your loss.
Average Street Sweeper Accident Settlement
Currently, insufficient data is available to determine the average street sweeper accident settlement in the United States. Since each case is unique, the settlement value or compensation awarded depends on many different factors, including the following.
Location
The location of the accident is an important factor in determining the settlement or compensation. California is a fault-based state where the degree of the fault determines the amount of compensation to each party.
For example, Mike is overspeeding in San Diego when he crashes into John, who is running a stop light. Mike files a personal injury claim against John's insurer. Although both parties are responsible for the accident, the insurance company decides that John is 60% at fault while Mike is 40% responsible. The total compensation awarded was $50,000. According to comparative negligence law, Mike will receive $30,000 in damages.
Nature of Injuries
The severity of the injuries from an accident is also a crucial factor when determining compensation. Some injuries can cause permanent disabilities and result in life-changing consequences. It can affect a victim mentally and financially, especially if they can't return to work due to their injuries.
A brain injury victim may not be able to return to work due to the limitations of the injury and may not even be able to carry out daily activities like before. Our specialized attorneys work closely with injured victims and medical experts to truly understand the severity of the injury and its consequences.
Employment Details
Depending on the personal injury case, an attorney may incorporate an individual's current wages and future earnings into the claim's value. Our experienced attorneys ensure that we collect maximum compensation for our clients.
We work with industry experts and employers to retrieve employment details such as future pay, bonuses, potential promotion capacity, and more to determine the value of lost wages.
Loss of Companionship
The factors determining the settlement value are unique to the injury case itself. For example, the attorneys considered many factors in the 2010 Dennis Schenk case, where a street sweeper caused severe brain injuries to a 55-year-old man.
For one, Dennis was mentally challenged and relied on his parents to care for him. His old parents spent 55 years caring for their son, losing him to a street sweeper accident. The attorneys considered the pain and suffering, the loss of companionship, and many other factors, resulting in a $2.75 million settlement.
Attorney's Experience
The average settlement amount shouldn't indicate how much you can win in a case. The attorney's experience, how well they prepare the case, and how they handle the insurance companies determine the outcome of a personal injury claim.
An experienced attorney can recover for a brain injury case in the millions, but a less knowledgeable attorney might settle for a couple hundred thousand.
Street Sweeper Accidents and Relying on Insurance Companies
After an accident, the stress and injuries can make an injured victim more vulnerable, making them susceptible to pressure from claimants.
When an injured victim files a claim against a party's insurance company, the insurer assigns a claim adjuster to the case. You may want to believe that the claim adjuster is working with you in your best interests. However, that is not the case.
Insurance companies assign claim adjusters to a case with one goal: to minimize the payouts. They may slow the claim process by requiring additional unnecessary documents or reject the claim without reason.
The more you wait for the claims, the more the insurance companies will drag it out. They understand financial stress can pressure an injured victim to accept lower settlements.
Sometimes an insurance company will refer you to a doctor on their "panel" who may not identify your injuries as severe. You need a second verdict on your injuries if this happens. Speak to our Los Angeles street sweeper truck accident attorneys to learn more about your personal injuries and your rights as an injured victim.
What Should You Do After a Street Sweeper Truck Accident
What you choose to do after an accident will determine the outcome of your personal injury case. Our attorneys recommend taking the following steps to increase your chances of securing compensation.
Call 911
The first thing you should do after an accident is to move out of harm's way. If you're in a car, move your vehicle to the side of the road if possible to prevent other vehicles from colliding with it.
Once you're out of harm's way, call 911 to report the accident. Calling the police at an accident scene leads to an official police report whereby the reporting officer writes his opinion about the accident. A police report is an important document that you may need when filing claims.
Assess Your Injuries
You should assess your injuries at the accident site to determine if you're in a position to move around. If you're able to move around, you can gather some evidence before the police and emergency services arrive.
Remember, your assessment of injuries shouldn't be why you avoid heading to a hospital for a proper medical examination. Even if you don't have any injuries on the surface, you may suffer from internal injuries. Some injuries can take time to manifest, which is why getting an official medical examination is crucial.
Stay calm and still if you cannot move due to your injuries. Call out for assistance to help you get the contact details of the other parties and gather evidence.
Exchange Contact Details
If you can move around, ensure you get the contact details of all the parties involved in the accident. Take down their names, contact information, and insurance policy number, as you will need these details when filing the claim form.
If there are any witnesses, it's best to talk to them and note their contact information. Your witnesses can bolster your personal injury case if your attorney decides to bring them in.
Gather Evidence
Pictures of the accident site, the vehicles involved, the traffic signs, road markings, and more help recreate the accident and determine the liable parties. It can prove the negligence of the other parties.
However, gathering evidence as soon as possible is important, so we recommend photographing the accident scene. Fresh evidence is free from manipulation, and any delays in evidence collection give your adversaries enough time to tamper with them or remove them from the accident site.
Seek Medical Treatment
Whether or not you're injured, you must head to a hospital for a quick medical examination. The police might ask you about your injuries. You mustn't admit to them that you don't have any injuries or are feeling fine. The negligent party can use these statements to reduce damages or dismiss your personal injury case.
During this stage, you must collect all medical bills, doctor's notes, appointment schedules, medication expenses, and other relevant documents. These are important pieces of evidence that can help in determining the damages.
If you're injured and delay your medical treatments, it can cause further medical complications, giving the opposing party's insurer grounds for an argument.
Speak to An Attorney
The other party's insurer will have questions to ask, and you'll need to speak to an attorney before responding. Providing too much unnecessary information can jeopardize your chances of recovering compensation. An attorney can guide you through the entire claim process and even handle the insurance company on your behalf.
Top-rated Los Angeles Streetsweeper Truck Accident Injury Attorneys
Ehline Law is an award-winning personal injury law firm in California that believes in compassion, service, and results. With over 3,000 satisfied clients, we have successfully recovered over $150 million in compensation.
Ehline Law works with industry and medical experts to recreate the accident scene and determine liability. We have the resources and firepower to aggressively pursue your personal injury claims and fight back against large insurance companies and defendants.
Schedule a Free Case Evaluation With a Streetweeper Accident Lawyer in Los Angeles, CA
Truck accident lawsuits are generally complex, involving more than one law or court system, transportation regulations, and well-funded defense attorneys. In most cases, plaintiffs feel pressure from the insurance company and decide to settle the case for a minimum amount outside of the court just to end the constant "harassment."
Our Los Angeles personal injury attorneys have experience handling insurance companies and providing their clients with the best and most aggressive legal representation. We will investigate any violations and hire investigators to identify the evidence needed to win your case. If you or your loved one suffers injuries from a street sweeper accident in Los Angeles, contact us at (213 596-9642 for a free case evaluation.
Happy Client Testimonial / Review
DTLA 5 Star Client Review: "I give Ehline Law Firm 5 stars for being the best when I was in bad health and out of commission!! Their office quickly answered all my questions and returned all my calls and emails. So if you need a top accident lawyer please call them fast. They are super nice and were very helpful to my wife and I. I would highly recommend Michael, Alan and Irene to any one who wants their legal issues handled by legal pros with a heart and soul – Ask Mike, he is the best accident attorney in Los Angeles County for the circumstances, PERIOD." – Eric E. (More reviews.)
Other Common Carrier Accidents
Michael Ehline is an inactive U.S. Marine and world-famous legal historian. Michael helped draft the Cruise Ship Safety Act and has won some of U.S. history's largest motorcycle accident settlements. Together with his legal team, Michael and the Ehline Law Firm collect damages on behalf of clients.
We pride ourselves on being available to answer your most pressing and difficult questions 24/7. We are proud sponsors of the Paul Ehline Memorial Motorcycle Ride and a Service Disabled Veteran Operated Business. (SDVOB.) We are ready to fight.