Lack of cleaning or improper cleaning techniques leading to a wet slipper hotel floor
Failure to follow standard code requirements for handrails, balconies, and other structures
Failure to maintain hotel structures such as handrails
Failure to install anti-slip strips at swimming pools and pool showers
Failure to take action or place warning signs near uneven flooring or loose floorboards
Exposed wiring at the hotel can cause guests to trip and fall
Torn carpets
Inadequate lighting at the hotel can prevent guests from seeing tripping hazards.
Common Injuries from Slip and Fall Accidents
Slip and fall accidents can lead to catastrophic injuries, especially to older adults, including traumatic brain injuries, spinal cord injuries, head and neck injuries, broken hip and bone fractures, sprained muscles, joint dislocation, and soft tissue injuries.
If you suffered a slip and fall injury at the Terranea hotel, you should immediately seek medical attention even if you have minor symptoms. Even minor injuries can manifest into major medical complications, leading to medical expenses, lost wages, emotional distress, and other economic/non-economic losses.
The tragedy behind slip and fall incidents is that these accidents are preventable. Yet, they happen across the United States, especially at hotels and resorts, causing devastating injuries to guests and even leading to fatalities.
Who Is Responsible for a Slip and Fall Accident at Terranea Hotel?
When you check in at the Terranea hotel, you are their guest, and it is the property owner's responsibility to ensure your safety while on the premises.
Under premises liability, the property owner must remove, eliminate, or warn guests about the hazards on their property to prevent accidents from happening.
However, when property owners are negligent and do not conduct inspections or maintain their property adequately, it could lead to serious slip and fall accidents, for which injured guests can bring personal injury claims against the hotel.
Proving a Slip and Fall Claim
There are four critical elements of a slip and fall accident claim, and the plaintiff must prove these to ensure they have a valid case:
The property owner had a duty to the plaintiff to maintain a safe environment

The property breached their legal duty

The property owner's negligence resulted in injuries to the plaintiff

The plaintiff suffered damages from the slip and fall accident
Proving negligence in a slip and fall case is challenging, and you only have one opportunity to recover compensation for your injuries.
An experienced personal injury lawyer can help gather the evidence on how the accident happened and hold the property owner responsible for their negligence.
What Should You Do After Slip and Fall Accident at a Terranea Hotel?
If you're seriously injured from a slip and fall accident, it is crucial that you call for medical help and immediately go to the hospital for medical treatment.
Otherwise, there are certain steps you can follow to protect your slip and fall case, and these include the following:
Call the hotel employee to help and inform the property manager or owner about the accident so they can file a report. Request a copy of the incident report, as you will need this when filing a personal injury claim.

Take photographs and videos of your injuries, the accident scene, and the hazard that led to your accident.

If there are witnesses, make sure you reach out to them and take their contact details, as witness statements can bolster personal injury cases.

If your accident occurred in your hotel room due to a leaky roof, call the housekeeper and ask them about the leak. Attesting to the hazard while on camera is excellent evidence to strengthen your case. The hotel management might be responsible for your accident if the leak was there long before your check-in.

Seek medical treatment, follow your doctor's medical treatment plan, and keep medical records, doctor's notes, and medical bills with you in a file.

Reach out to Ehline Law to discuss your case and learn more about your legal options.
Why Choose Ehline Law for Your Hotel Slip and Fall Accident at Terra Nea Hotel
Ehline Law is a leading California and Texas personal injury law firm with more than 15 law offices across the states, including Los Angeles, San Diego, San Bernardino, and many more.
Our attorneys specialize in personal injury law and have over 15 years of litigation experience protecting the rights of injured victims.
Here are a few reasons our clients love us and keep recommending us to other injured victims for legal representation.
Contingency-fee Basis
Our slip and fall accident attorneys provide legal services on a contingency fee basis alleviating the burden of legal costs. We don't charge any upfront legal fees and only take an agreed percentage from the winnings. No win means no fee!
Locate a Lien Doctor
At times, injured victims do not have the financial resources to pay for their medical bills after an accident. We maintain strong relationships with some of the best medical providers and can help locate a medical doctor on a lien for you if required.
Superior Track Record
Ehline Law has successfully handled over 3,000 personal injury cases and recovered in excess of $150 million in compensation for our clients.
Achievement and Accolades
Ehline Law is an award-winning law firm. Some of our achievements and awards include the Superlawyers Rising Star award, Premier Personal Injury Attorneys, Top 100 Trial Lawyers, and many more.
Negotiate with the Insurance Company
We will help investigate your injury case, gather evidence, and file a claim against the hotel's insurance company to recover damages. 
As an alternative dispute resolution, our attorneys will negotiate with the insurer on your behalf to get you a fair settlement for your injuries. However, our attorneys can take the case to trial if there is a disagreement over the settlement.
Schedule a Free Consultation with Ehline Law Terranea Accident Lawyers

If you suffered injuries at a Terranea hotel or someone's property, contact us at (833) LETS-SUE for a free case review with our Terranea hotel slip and fall attorneys, as you may be eligible for compensation.
---
Michael Ehline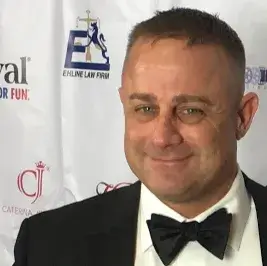 Michael is a managing partner at the nationwide Ehline Law Firm, Personal Injury Attorneys, APLC. He's an inactive Marine and became a lawyer in the California State Bar Law Office Study Program, later receiving his J.D. from UWLA School of Law. Michael has won some of the world's largest motorcycle accident settlements, and he can help you get the compensation you deserve for sure.
---
Recent Personal Injury News
Check out news about the most recent premises liability accidents and more, including the famous, infamous and everyday people wounded by at fault parties around the world. Follow us on social media to learn more about pain and suffering damages and getting paid the most. At Ehline Law Firm, we're clearly different.