Los Angeles County Personal Injury Resources
Why Hire Ehline Personal Injury Law Firm For Representation?
Our law firm has a successful track record for obtaining fair and full financial compensation money and strengthening personal injury legislation over a combined history of 30 years.

Our personal injury attorneys maintain over 15 law offices in convenient Southern California locations litigating many practice areas.

Our personal injury lawyers have collectively obtained over $150 million on behalf of satisfied clients since opening our Los Angeles office.

Our contingency fee promise means no recovery to you, no fee to us.
Call (213) 596-9642 to schedule a swift and free case consultation immediately. A loyal, attentive Los Angeles personal injury attorney will evaluate the details of your personal injury claim, helping you on your journey to recovering compensation.
No Recovery No Fee Promise
From Los Angeles County truck accidents, car accidents, a motorcycle accident, dog bites, or slip and falls with brain injuries, if we don't win, we don't cost a dime! Learn more about how our contingency fee attorneys serving Los Angeles can help your family with excellence and resources.
We are like family; law and motion experts in Los Angeles waiting to give you FREE consultation today. You can use our online contact us form or call us 24/7. We get real results when seeking compensation dollars for wrongful death cases to spinal injuries, with millions recovered to date.
Personal Injury Attorney Job Description?
California personal injury lawyers aren't simply trial lawyers. Personal injury cases are usually settled on your behalf prior to going to court or a jury trial. This is because the right personal injury attorneys will handle every aspect of your case. This includes initial investigations and witnesses, and the insurance claims negotiation process through litigation and trial if needed.
You won't have to stress proving driver negligence or bartering with the sneaky insurance company over your personal injury insurance benefit. After forming an attorney-client relationship, our Los Angeles personal injury attorneys handle all concerns.
If our proven trial attorneys can't max your injury insurance claim, we will file a personal injury lawsuit against the responsible parties involved. As you recuperate and receive medical attention for your injuries, your lawyer will fight to fulfill your legal needs and provide personal attention.
---
Client Testimonials: 5/5 ★ ★ ★ ★ ★
"While I received medical treatment, their associates came to the emergency room and made me feel protected as I recovered from head injuries in Long Beach, seeking a free case evaluation. They did an excellent job, and I got justice!" – Bruce (Read another review.)
---
Personal Injury Cases We Take in Los Angeles, California
Our proven trial lawyers maintain fully staffed offices serving nearby Los Angeles and Southern California cities with extensive experience. If you're unable to travel, don't worry, we can come to you
We also offer a concierge shuttle service for all new personal injury victims from Fresno to Los Angeles to the San Diego and Orange County locale.
Did you suffer personal injuries in the Bay Area, California's Central Valley, National City, Bakersfield, Beverly Hills, or East L.A.?
Our law office locations remain conveniently perched to represent a vast array of related practice areas and fatal accident claims, including:
Auto accidents (all motor vehicle accidents like car accidents, train accidents, Metro bus accidents, cruise ship accidents, pedestrian accidents, bike accidents, and motorcycle accidents.
Toxic chemical exposure trauma from substances at work, including oil refineries, asbestos, and benzene, harm causing mesothelioma or cancers.
Premises liability claims (slip-trip-and-fall, inadequate security cases.)
LA area construction accidents
Products liability injury cases
Amputations/Disfigurement
Dog bites from dog attacks
Spinal cord injuries
Brain injuries
Burn injuries
California Law – Personal Injury Doctrines
A personal injury case's doctrines could make or break your catastrophic injury claim. If you want to receive the full compensation you deserve for a Los Angeles personal injury claim, it's in your best interest to have a basic legal education. The laws encompassing a personal injury claim will lead to the success or failure of most personal injury claims. Contractual and statute of limitations issues may prevent you from recovering anything for your catastrophic injuries.
What rules regulate your case will be contingent on the matter presented. It is vital for you to understand these complicated rules, lest you waive your right to collect anything! A top Los Angeles injury lawyer specialist from Ehline Law Firm will strive to translate and explain the fundamental laws related to your individual catastrophic injury case.
Car Accident Victims
Most importantly, to get awarded California car accident damages, you must prove the other driver or defendant was at fault under the legal doctrine of negligence. Any parties injured seeking financial damages for costs in the wreck will tender their claim to the insurance provider of the drivers or other party liable for the crash. Someone with expertise must identify what caused your motor vehicle accident first (often the police at the accident scene.) Additionally, you must file the case in time under the applicable statute of limitations. (See below.)
Pure comparative negligence rules may apply in many personal injury cases. This California legal doctrine allows plaintiffs who are partially at fault to recover some compensation. Juries and judges often reduce the total damages, based on the plaintiff's percentage of fault. This is a reason why it's so important to gather evidence early. Most of all, you must first involve a great personal injury attorney to build a solid liability case and not just settle.
Dangerous, Defective Products
Defective, dangerous products may have inherent design or manufacturing defects. These can make normal use a severe physical danger to end users. Businesses may even fail to warn consumers about a risk their product may pose, making their products unreasonably dangerous.
Strict product liability legal doctrine may also come into play. Here, a fabricator, middle person, or seller in the chain of commerce may be held strictly liable.
What are the three doctrines victims can claim in a typical product, strict liability claim?
Defects in manufacturing
Design flaws
Improper or missing warnings
Strict liability allows you to skip proving the defendant was negligent to receive full financial damages compensation.
California Statute of Repose: Irrespective of when a plaintiff has discovered they were damaged, some states maintain statutes of repose. These statutes let a victim sue for delineated latent defects in court up until ten years MAXIMUM after a construction project has been completed using flawed, defective products. Latent defects are typically "not apparent by reasonable inspection." (California Code of Civil Procedure §337.15(b)). The statute of repose doesn't apply to personal injury actions. (See, e.g., McCann v. Foster Wheeler LLC (2010) 48 Cal.4th 68.)
Wrongful Death Cases
A wrongful death matter arises when immediate family members lose a loved one due to someone else's negligence/recklessness. California wrongful death claims are unique among personal injury cases and a creature of statute.
For example, the time to file a civil lawsuit is two years from the death and not two years from the personal injury date. Only the decedent's surviving spouse, domestic partner, children, parents, or person with legal rights to the decedent's estate via intestate succession may sue.
What are Capped Damages in California?
The State of California's legislature has enacted laws capping a plaintiff's damages compensation amounts in certain personal injury cases. The intent in passing damage limitations was designed to shield certain defendants critical to the health of local citizens. (Urgent care centers, doctors, nurses, and hospitals).
The idea is to keep a defendant from seeking bankruptcy protection by reducing the victim's financial award. Plaintiff's non-feasance is also a basis for reducing financial damages in auto accidents
Proposition 213 limits a plaintiff's award when they failed to purchase mandatory auto insurance minimum amounts. Because of this, the uninsured plaintiff driver is barred from recovering non-economic damages (e.g., pain and suffering, loss of consortium, emotional distress). However, the victim plaintiff can still recover from economic losses, including repair bills and medical expenses.
California caps non-economic damages in medical malpractice actions as well. Under the Medical Injury Compensation Reform Act (MICRA), a medical professional or health care worker is only liable to pay up to $250,000 for intangible, non-economic damages.
Pure Comparative Negligence
Under California's pure comparative negligence doctrine, many persons, including the plaintiff, could be held liable for their portion of the "comparative" fault causing an accident. Unlike a fault jurisdiction, 100% fault is not required for a plaintiff to recover something.
A plaintiff who is partially to blame splits fault and may be able to receive a reduced compensatory damages award.
Prior to this, California was a contributory negligence state. Under this less fair system, the plaintiff will receive nothing if the plaintiff is so much as 1/4% at fault for causing the accident.
Exceptions: If the other party had the last clear chance to avoid the crash plaintiff can recover.
Distinctions: Under the Golden State's pure comparative negligence rules, a plaintiff 30% at fault can still receive a 70% portion of the verdict amount.
A few U.S. states cap damages under a hybrid, modified comparative negligence doctrine. Under this common law, a plaintiff's overall recovery may be capped at 49% to 51% of their percentage of fault.
What this means to the Los Angeles, CA victims is simple. Even if you think you contributed to your injury claim, you should receive a free consultation from our accident lawyer before waiving any rights to seek comp. Comparative fault will not bar you from recovery but will reduce or diminish your award based on your calculated percentage of fault.
If you obtain a $300,000 judgment or settlement but were found 25% at fault, your award would be reduced by 25% ($75,000). Using an experienced personal injury attorney to pursue the party at blame may mitigate/diminish your comparative liability and increase your result.
California Statute of Limitations For Personal Injury Accidents?
When you suffer an accident injury and hope to file a lawsuit against the at fault party, generally, you must do so within two years time limit unless an exception applies. If you are solely lodging a property-damages claim, you'll generally have three years deadline from the date of the damage to sue. However, zero-hour shrinks to merely six months, however, if you are claiming damages against a government entity defendant.
By contract, cruise ship defendants also typically shorten the time to make a claim to just six months. You must act promptly, or you can miss your deadline to file claims and waive your right to receive compensation forever unless an exception applies. Also, you must file the proper paperwork with the proper agency on time.
Legally, these deadlines are called the statute of limitations. Some exceptions would include the delayed discovery of an injury or if the plaintiff was a minor child. In that case, the victims have two years from the child's 18th birthday to file a personal injury lawsuit.
Wrongful death claims involving murder or unjustified homicide may also extend the statute two years from the criminal conviction date. Connect with a Los Angeles personal injury claims attorney at Ehline Law. We'll meet your explicit target date to get your Los Angeles personal injury case timely filed, "do or die."
Suffer A Southern California Workplace Injury?
We can also make a personal injury claim against your employer's Los Angeles workers' compensation insurance in some cases. We have seen many hybrids or mixed third party claims in Uber, Lyft, and delivery truck accident cases. If you receive injuries at work, more parties other than your employer could be liable to pay your personal injury claim. We can handle any category your accident cases fall into. To speak with a discerning Los Angeles personal injury lawyer at our firm, call us today at (213) 596-9642.
Steps In Proving Negligence?
Under California law, it is the plaintiff's burden to prove negligence based on a preponderance of the evidence, ever so slightly tipping the justice scales in the plaintiff's favor. Unlike proving guilt in a criminal case, jail time is not a penalty for losing. Instead, you are seeking money damages. But you must hire an adept personal injury lawyer to navigate your claim on your behalf. The law firm you hire must be experienced in proving negligence to a court or jury with convincing facts and evidence.
Your personal injury lawyer must prove four decisive elements to obtain a jury verdict or risk having the judge throw the case out in a non-suit.
Duty of Care Owed: First, you must prove the person being sued owed you a duty of reasonable care. This duty can flow from an ownership interest or operation of the injury-causing instrument. Vicarious liability may also exist between an employee causing the injury and the employer, or by operation of law such as a parent and at fault child. Without the existence of a duty to exercise reasonable care, no successful claim may lie.

Breach of Duty: Defendant's breach of its direct duty to act or failure to act reasonably at all must be demonstrated. Your legal representative must be able to illustrate the breach with clarity to win any negligence claim.

Causation: Next, you must prove that the liable party, by breaching its duty, damaged the victim. Additionally, you must prove said damages were "reasonably foreseeable" during the incident, based on the available evidence.

Damages: Injury victims must prove they suffered bodily injuries or property damage, using evidence of medical expenses, hospital bills, lost wages, pain, and suffering.
A competent, recognized lawyer with years of experience representing Los Angeles clients is best when filing Los Angeles personal injury claims. This legal expert will know precisely how to formulate your personal injury matters for global success.
The superior lawyers at Ehline Law Firm can make sense of the rules and have a dedicated network local to all Los Angeles County courthouses. Forming an attorney-client relationship with our team can increase your chances of receiving a fair financial compensation dollar amount.
What Is The Maximum Compensation of Your Personal Injury Case?
"How much is my case worth." This is what insurance companies don't want you to know how much you're entitled to for a collision or slip and falls in Los Angeles County, CA.
Personal injury lawsuits filed in Los Angeles civil courts may be awarded more or less compensation based upon the proof and uniqueness of each case. The reality is that you get what you pay for. If you want to pay a lower fee, we can refer you to a less experienced lawyer.
If you want veteran experience, the best lawyer from our personal injury firm can swiftly evaluate your case during your free initial consultation. Let us assess your claim by dialing (213) 596-9642.
If you have a case, we may be able to help you win full and fair compensation for:
Punitive/exemplary damages
Medical bills and expenses
Property damage bills
Pain and suffering
Lost wages
Our managing partner has led our Los Angeles personal injury lawyers to many decisive legal victories. We have a proven track record for achieving significant outcomes on behalf of clients fighting an uphill battle.
Our focus is on using a custom-tailored game plan with forceful case negotiations to battle despicable insurance companies. Our injury lawyers in Los Angeles have the ability to handle virtually any California personal injury claim.
The likely value of your losses will depend on the severity of your bodily injury and other losses. Discover more info about your search for potential case value when you discuss everything during your free consultation with our established team.
How Much Do Personal Injury Lawyers Charge?
Rest assured, our Los Angeles injury attorney will not collect a penny in fees unless we are successful in obtaining a financial award on you or your loved one's behalf. Our law firm works on a contingency fee basis across the country.
We only charge fees if we obtain successful verdicts or settlements for our clients resulting from our legal services. The amount we charge after hiring us will be resolved in the retainer agreement contract you negotiate and sign with our law firm. We take pride in the high-quality, affordable legal services we've given our past clients.
Contact World-Class Los Angeles Personal Injury Lawyers Today
If you suffered any kind of accident with injuries in Los Angeles County, we might be able to assist you. Our best Los Angeles injury lawyer can stand by your side throughout the legal process, from establishing liability to settling for the maximum financial compensation outcome.
Begin the personal injury claims process today by receiving a cost/risk-free case analysis at local law offices over your physical disability. Call us by dialing (213) 596-9642 or immediately fill out our online contact form. Speak with a top-rated personal injury lawyer in Los Angeles to aid your quest for justice today. More resources here.
---
Michael Ehline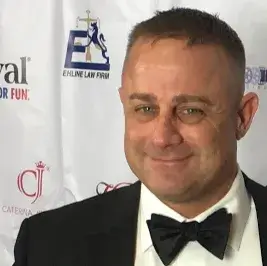 Michael is a managing partner at the nationwide Ehline Law Firm, Personal Injury Attorneys, APLC. He's an inactive Marine and became a lawyer in the California State Bar Law Office Study Program, later receiving his J.D. from UWLA School of Law. Michael has won some of the world's largest motorcycle accident settlements.
---
Recent Personal Injury News
Check out our most recent Los Angeles accident news and more, including the famous, infamous and everyday people wounded by at fault parties around the world.